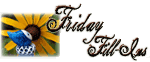 1. Some relationships are meant to
last forever
.
2.
Lonestar
is the last concert I saw; it was
one of the only concerts I've ever been to--I'm just not into concerts
.
3. Spring should be
wonderful this year
.
4. Oh no! I forgot
I have to teach a Sunday School lesson on Sunday
!
5. I've recently started
to read David Copperfield
.
6.
The Office
never fails to make me smile.
7. And as for the weekend, tonight I'm looking forward to
going on a date with my hubby to see a musical on stage
, tomorrow my plans include
getting some much needed housework done
and Sunday, I want to
go to church and then come home and relax
!